How To Use ViewPure?
Let's use the actual video below to see the differences. We have always felt that videos speak louder than words. See below.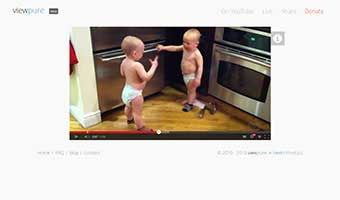 On ViewPure
As you have seen, ViewPure removes all distracting comments and side-bar related videos. Which makes the videos you use for your school or social media group purified without all the distractions or "inappropriate content".
What can it be used for?
Honestly, what can it not be used for? Common uses include:
Removing inappropriate ads and comments from videos to show kids
Removing unwanted related videos at the end to show students
Memorable URLs (youtube.com/watch?v=_JmA2ClUvUY vs viewpure.com/BabyDebate)
YouTube search with a cleaner UI and filtered results
Cleaner interface to view YouTube videos
The list goes on and on - but you will find a use for ViewPure.
ViewPure has been used by teachers, students, college professors, educators, parents, homeschoolers, social influencers, organizers, and more.